Helen Dougall
Having specialised in fine art in art school during the 60's, I went on to teaching art and design in schools and further education. Part of my training included monoprinting which, surprisingly, led to batik. I was interested in textural effects and it was the crackle of batik that that intrigued me. After a week's course with Noel Dyrenforth back in the late 70's I was fired with enthusiasm.
I am interested in the way light affects surfaces in landscape and seascapes and I paint and draw from observation out in the open, then back in the studio I use batik to explore cloud formations, perspective patterns across fields (in Suffolk) and the texture of stubble and ploughed fields or wet shiny shingle beaches.
I think of my batiks as paintings, using Procion dyes on Primissima cotton stretched onto a wooden frame, choosing not to cover with glass so keeping the effect of fabric. Sometimes I collage / appliqué pieces of batik with machine embroidery to compose a semi-abstract picture.
I exhibit regularly with Artworks, Suffolk Craft Society and The Batik Guild and in the last few years I've had 3 solo exhibitions in Suffolk.
In 2015 I was commissioned, with the help of Lottery funding, to work with primary school children to produce a large batik wallhanging as a memorial to those servicemen from my village who lost their lives in World War 1. Fifteen 9 – 10 year olds designed batik poppies which were arranged with my landscape to include the names of those who died. The 4-metre wallhanging can be seen in Walsham le Willows Memorial Village Hall.
Helen occasionally runs batik workshops in her studio, with a maximum of five people.
Artworks by Helen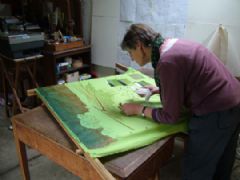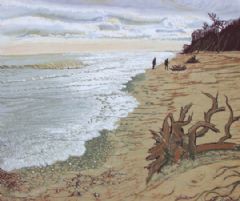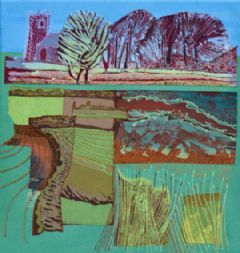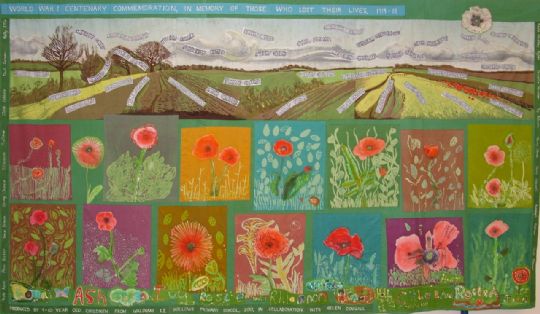 WW1 Memorial Wall Hanging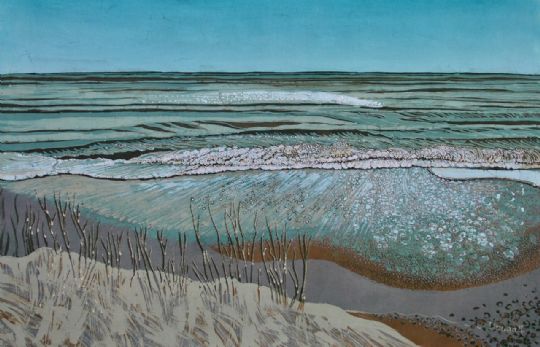 Encroaching Sea, Covehithe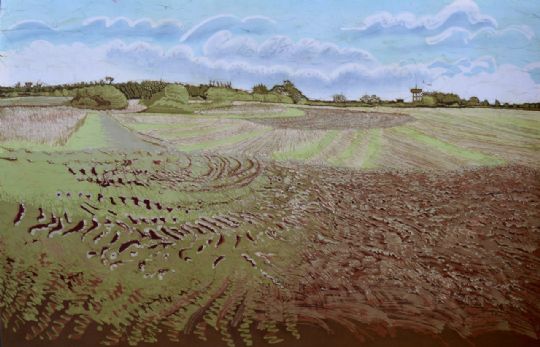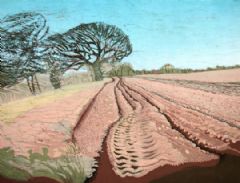 ---
Helen is a Batik Guild member